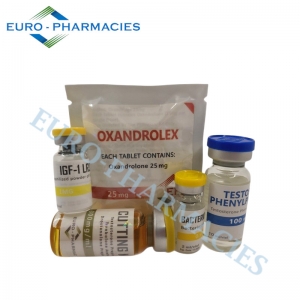 Starter/Beginner Cycle
admin
Euro-Pharmacies Products
1-12 weeks 500mg Testosterone Enanthate (weekly)
1-12 weeks 10-20mg Aromasin Everyday to every other day (If needed)
1-12 weeks 250iu HCG twice a week

PCT:

12-16 weeks 20mg Tamoxifen every day
12-16 weeks 50mg Clomid every day


3 x Testosterone Enanthate 250mg/ml 10ml/vial
2 x HCG - (Eurigil) - 5000 iu/amp
1 x Exemestanex (Aromasin) - 20mg/tab - 50 tab/bag
1 x Tamotex (Tamoxifen) - 20mg/tab -50 tab/bag
1 x Clomixin (Clomid) - 50mg/tab - 50 tab/bag


Users can expect a significant increase in muscular mass and muscular appearance, depending on diet and training losing body fat is typical. This cycle is a beginners cycle and will help the user build a solid base or foundation for their body and give them a feel for anabolic steroids. Users can practice and learn the process of self administering injectable anabolic steroids. They will learn how anabolic steroids will affect them and gain experience for future cycles or use the cycle package to gain a desired amount of weight. Side effects for this cycle are at a mild to moderate risk. Including acne, aggression, hypertension, lethargy, gynecomastia and insomnia. An anti estrogen most likely will be needed.
Your comment has been sent successfully. Thanks for comment!
Leave a Comment
You cannot post a comment because you are not logged as a customer